Scott Storch Masterclass? Scott Storch, AKA The Piano Man is the last person I thought I'd see conducting a masterclass and I'm glad that he did. This is the music producer that dominated Billboard charts during the mid-2000s, helped chart some of the West Coast's biggest hits with his infectious melodies and Eastern-inspired sound pallet.
Over the last few years, there have been quite a few platforms releasing masterclasses with music producers, dancers, singers, and songwriters, but very few grabbed me. They either felt forced or turned out to be more of a hangout session vs an actual Masterclass.
Ps- This masterclass is hosted by https://www.aulart.com not masterclass.com
What Is A Masterclass?
A Masterclass is a skill or subject taught by an expert in their given field. These are generally done in private settings, with a small group of people or a focused group of people.
Why Did I Purchase Scott Storch's Masterclass?
I'm a huge fan of West Coast music. I grew up listening to productions from Dre, Storch, and that classic Aftermath sound. A lot of iconic hip-hop producers I grew up listening to and studied are either retired, stuck in an era, or have completely fallen off.
Very few are still relevant in today's music industry.
A lot of fans thought Storch hung it up when he went on hiatus. It's nice to see him back, active, and working with current artists such as 'A Boogie wit da Hoodie, Trippie Redd, Jack Harlow, and more. With that being said, having the opportunity to peer into the mindset and workflow of someone of this production caliber is the highest form of waxing nostalgia.
What's Covered in The Scott Storch Masterclass?
This masterclass is a walkthrough of techniques, tips, insight, and advice from a legendary music producer. I don't know of another way to put it.
Scott Storch Masterclass Outline/ Breakdown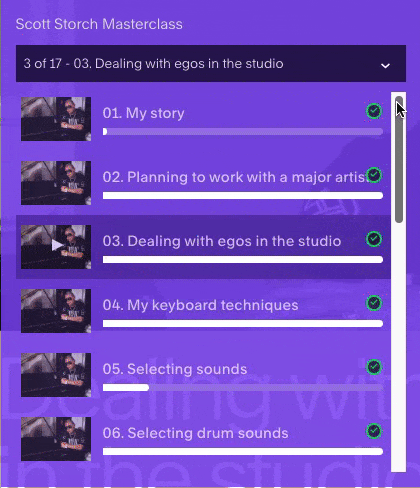 The masterclass is broken down into 17 digestible sections starting with an introduction, an eye-opener into Scott's humble beginnings from a child messing around on the piano to working on some of the industry's most notable artists and producers.
Dr. Dre
Chris Brown
The Roots
Adele
etc
Scott runs you through his musicianship techniques for writing catchy memorable melodies, chord progressions, movement, and sound selection. You're not only hearing what's coming out of his monitors and seeing what plugins he uses, but you're also seeing his hands and how he finesses the keys. There's also a beat-making session done on the spot.
Plugins Scott Storch Uses Arturia Mini Moog, Omnisphere, Native Instruments.
Tapering off from the middle section of the course is where Scott Storch breaks down a few hit songs.
Still Dre
Candy Shop
Lean Back
Etc
The Masterclass closes with his top tips for starting out as a new and upcoming music producer. Of the 10 tips Scott shares 'studying music' is the one most new producers spend more time trying to avoid.
What I Like About The Scott Storch Masterclass
There are many things I liked about the masterclass, here they are in no order.
Track breakdowns: Actually seeing the style and technique expressed and he shares a couple of mixing tips throughout.
Indirect Mixing Techniques: These are not highlighted in the outline of the course, and you'll miss them if you aren't paying attention.
Chord & Melody Creation: Scott explains how to keep melodies both simple and memorable using 'Call and Response' and 'Contrasting Elements'.
Music Evolution: I love when veteran producers like Scott Storch compare the differences between music production today vs when they started and what should be embraced. Rather than bashing the tools, they embrace them.
Articulation: Often times when a big producer is put on camera, with a microphone, it's hard for them to articulate things. That wasn't the case with this Masterclass. Everything was easy to understand and well explained.
Straight To The Point: There's no filler here. Whoever helped with the structure and editing did a very good job of keeping the content on track.
Warning: Depending on your personality type, the music evolution portion of the class could inspire you or hurt your feelings.
Is Scott Storch's Masterclass Worth It?
I've watched quite a few Masterclasses, from Masterclass and this is the first one I've seen where I didn't feel like the producer/talent was just doing it for money or it turning it into a pompous rant session.
What I like most about this Scott Storch Masterclass is he's showing you vs telling you. That's a big problem with a lot of these instructional courses and masterclasses featuring big-name producers. There's too much talking about what can be done and not enough showing.
The Masterclass goes into more than production tips and track breakdowns. It also outlines the expectations of a music producer, differences between music producers and beatmakers (track makers) as well as some recording studio etiquette. Scott also touches on how he likes to work with artists in order to get the best out of them and the time spent.
Everyone knows relationships go a long way in the music industry. With that being said, Scott Storch explains the importance of relationships with labels, A&Rs, artists, and how to stand out and impress record labels. Even if your goal isn't to be signed or work with labels, the advice can be applied to many different situations.
How long is The Scott Storch MasterClass?
The total runtime of Scott Storch is 2 hours. The course is divided into 17 Chapters with each video ranging between 2 to 20 minutes in length, most being on the shorter side.
Who is This Masterclass for?
Scott Storch's Masterclass is for anyone looking to get into music production and wants clear direction from a well-known, accomplished professional. I feel it's a good crash course for beginners that isn't too lengthy and holds your attention. This masterclass is not for someone looking for a technical approach or anything super in-depth.
It's a good crash course for beginners as everything is short and to the point with good examples
What This Masterclass Is Not
This masterclass is not a beat-making tutorial, training course, or a collection cook-up session. If that's what you're after, YouTube will be a better option.
Will The Masterclass Make Me A Hit Music Producer?
The answer is No. You'll still need to put in the work it takes to become a good music producer. This masterclass isn't a substitute for experience and putting in the work.
Conclusion
This being Scott Storch's first masterclass, I think it went well. He's a natural on camera, articulates well, and gets to the point. There's good insight, especially for a new beat maker producer who's looking for a solid foundation and advice to get started.
For many, the issue is getting started and while there are a lot of great tutorials on YouTube there's also a lot of crap out there at the same time. The tips and advice discussed in the masterclass are not complicated which makes them very easy to employ. The tools used are also very accessible for high school and or college students looking to get into music. I'd definitely like to see another.
---
Scott Storch Masterclass FAQ
What Are Scott Storch's Best Hits?
Here are some of Scott Storch's hits
Still D.R.E. (Dr. Dre ft Snoop Dogg)
Naughty Girl (Beyoncé)
Lean Back (Terror Squad ft Fat Joe and Remy Ma)
Run It! (Chris Brown ft Juelz Santana)
Make It Rain (Fat Joe ft Lil Wayne)
Let Me Love You (Mario)
Candy Shop (50 Cent ft Olivia)
Cry Me A River (Justin Timberlake)
Scott Storch vs Timbaland Who Has The Better Masterclass?
Both courses are good but are as different as the producers themselves. Timbaland's Masterclass contains a lot of good information and gives access to session files but no breakdowns of previous hits. Scott Storch's Masterclass breaks down hits, is more to the point, and displays musicianship.
Which is better comes down to how you like to learn. Both are incredible producers, you can learn from both.